Space Brothers

details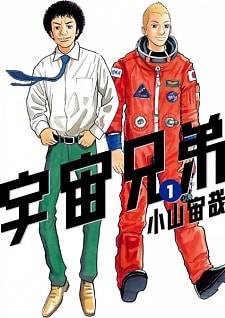 Uchuu Kyoudai
8.82

/

10
Genres:
Drama, Sci-Fi, Space, Seinen
Description
"A big brother must always stay ahead of his younger brother. That is my responsibility as the older sibling"—these are the words that have always motivated Mutta Nanba to try his best when it came to his younger brother Hibito. So naturally, in the summer of 2006 when the Nanba brothers witness something strange in the night sky, Hibito declared that he would become an astronaut and travel to the Moon, while Mutta countered with the affirmation that he would go to Mars. That was the promise they made to each other. Now in 2025, while Hibito is working with NASA and preparing to become the first Japanese to land on the moon, Mutta has been fired from his job in an automotive development company. Having difficulty finding another job, Mutta is given a lifetime opportunity when he receives a letter from JAXA—the Japan Aerospace Exploration Agency—telling him that he's been accepted to participate in the next astronaut selection. As if fate has given him a chance to fulfill the promise he made all those years ago, Mutta undertakes the difficult challenge of going to space.
Uchuu Kyoudai was nominated for the 2nd and 3rd Manga Taisho Award in 2009 and 2010. In 2011, the series won the 56th Shogakukan Manga Award (shared with ) and the 35th Kodansha Manga Award (shared with ), both in the general category. The series also won the Reader Award of the 18th Tezuka Osamu Cultural Prize in 2014. The series has been simulpub in English as Space Brothers by Crunchyroll since October 30, 2013. Kodansha Comics USA has been releasing e-books of the series since November 3, 2015.