GTO: Great Teacher Onizuka

details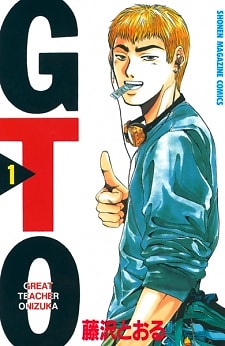 GTO
8.89

/

10
Genres:
Action, Comedy, Drama, Ecchi, School, Shounen
Description
22-year-old Eikichi Onizuka: pervert, former gang member... and teacher? Great Teacher Onizuka follows the incredible, though often ridiculous, antics of the titular teacher as he attempts to outwit and win over the cunning Class 3-4 that is determined to have him removed from the school. However, other obstacles present themselves throughout—including the frustrated, balding vice principal, Hiroshi Uchiyamada; old enemies from his biker days; and his own idiotic teaching methods. But Eikichi fights it all whilst trying to help his students, romance fellow teacher Azusa Fuyutsuki, and earn his self-proclaimed title.
GTO was awarded the 22nd Kodansha Manga Award for Best Shounen Manga in 1998. The series was published in English as GTO: Great Teacher Onizuka by the now defunct Tokyopop from April 23, 2002 to August 9, 2005. Several live action adaptations of GTO were made. A 12-episode television drama directed by Masayuki Suzuki was broadcast from July 7 to September 22, 1998; it was followed by a film adaptation by the same director released on December 18, 1999. The theatrical version went on to become the 10th highest grossing Japanese film of 2000. A second drama adaptation directed by Imai Kazuhisa was broadcast from July 3 to September 11, 2012. A joint project between Japanese and Taiwanese productions created the dual language project, GTO in Taiwan, also directed by Imai Kazuhisa. The four-episode series was aired first in Taiwan from March 22 to April 12, 2014. These episodes aired in Japan at a later date. Another GTO drama was aired in 2014 directed by Ken Iizuka, eleven episodes were broadcast from July 8, to September 16.