Spice & Wolf

details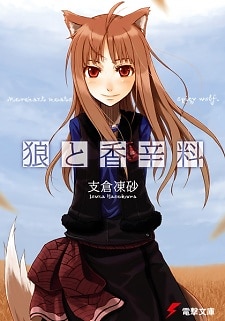 Ookami to Koushinryou
8.88

/

10
Genres:
Adventure, Drama, Fantasy, Historical, Romance, Supernatural
Description
A young traveling merchant, Kraft Lawrence has become accustomed to days of roaming and trading, with few companions. Or so it was until one peculiar day where the trader finds a young, naked, wolf-like girl asleep in his wagon. The beautiful girl, calling herself Holo, claims to be a local wolf deity worshipped by locals as the God of Good Harvest. Year after year, she ensured they would reap a good harvest, but she has since grown tired of fulfilling the wishes of the ungrateful locals. Holo ends up striking a deal with Kraft: if he helps her escape the villagers, she will gladly help him in his merchant endeavors. Together, they roam from town to town in search of business, and Kraft realizes both the ups and downs of traveling with a haughty and shrewd wolf goddess.
Ookami to Koushinryou placed 1st on the Kono Light Novel ga Sugoi! ranking under Best Light Novel category in 2007.Ookami to Koushinryou: Spring Log, a short stories sequel to the main series written on the 10th anniversary since Hasekura Isuna's debut is the first part of the "Ookami to Koushinryou & Hasekura Isuna 10th Anniversary" project. The series was published in English as Spice & Wolf by Yen Press from December 15, 2009 to April 19, 2016. A complete "Anniversary Collector's Edition" omnibus compiling the first 17 volumes was released on October 4, 2016. It has also been published in Russian as Волчица и пряности by Istari Comics since June 2017.